Dealing with the new process of furfural waste water closed evaporation circulation
Product Detail
Product Tags
National invention patent
The characteristics and treatment method of furfural wastewater: It has strong acidity. The bottom wastewater contains 1.2%~2.5% acetic acid, which is turbid, khaki, light transmittance <60%. In addition to water and acetic acid, it also contains extremely A small amount of furfural, other trace organic acids, ketones, etc. The COD in the wastewater is about 15000~20000mg/L, BOD is about 5000mg/L, SS is about 250mg/L, and the temperature is about 100℃. If the waste water is not treated and discharged directly, the water quality will inevitably be seriously polluted and the structure of the ecological environment will be destroyed. The general treatment methods mainly include: chemical method, biological method (upstream aerobic reaction, filtered aerobic reaction, etc.), aerobic treatment process (SBR reaction, contact oxidation reaction), among which aerobic treatment is another after anaerobic treatment A treatment process, in order to ensure the standard of effluent water quality, is an indispensable treatment process in the treatment of furfural wastewater. However, in the project commissioning stage, aerobic commissioning will waste a lot of time and money, which will increase the cost of water treatment projects, such as commissioning. If it is not good, it will make the overall process unable to run, so aerobic debugging is very important to the overall project, but nutrients are essential in aerobic debugging.
Waste water produced by furfural is belong to Complex organic wastewater, which contain cetic acid, furfural and alcohols, aldehydes, ketones, esters, organic acids and many kinds of organics, PH is 2-3, high concentration in COD,and bad in biodegradability.
The process regard saturated steam as heat source, evaporation system make.
Waste water vaporized, boost pressure to reach production requirement, recycle the furfural and heat from the waste water to realize waste water recycle in production process. The device adopt automatic program to control.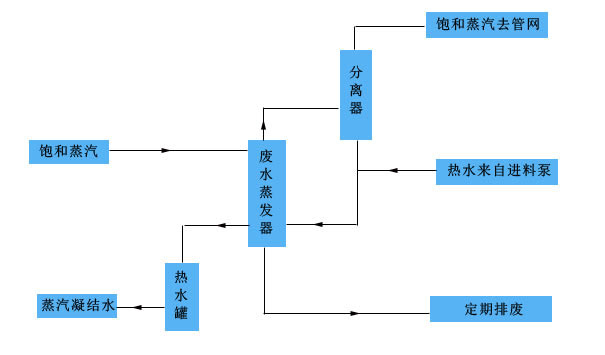 ---
Previous:
Steam jet pump b006
---
Write your message here and send it to us
Related products
Hydrogen peroxide production process The chemical formula of hydrogen peroxide is H2O2, commonly known as hydrogen peroxide. Appearance is a colorless transparent liquid, it is a strong oxidant, its aqueous solution is suitable for medical wound disinfection and environmental disinfection and food disinfection. Under normal circumstances, it will decompose into water and oxygen, but the decomposition rat...

Summary The containing Pentosan plant fiber materials (like Corn cob, peanut shells, cotton seed hulls, rice hulls, sawdust, cotton wood) will hydrolysis into pentose in the fluence of the certain temperature and catalyst, Pentoses leave off three water molecules to form furfural The corn cob is used by the materials usually, and after a series of process that include Purification, crushing, with acid hy...