Aginomoto continuous crystallization process
Product Detail
Product Tags
It provides an apparatus and method for forming on a substrate a crystalline semiconductor layer.
The semiconductor layer is formed by vapor deposition. Executive pulsed laser melting / recrystallization processes to the semiconductor layer into crystalline layers. The laser or other pulsed electromagnetic radiation bursts and is formed as a uniformly distributed over the treatment zone, and continuously exposed to the processing region adjacent the said burst, to progressively deposited material is converted to the crystalline material.Continuous feeding and discharging, and the concentration, temperature, crystal slurry density and crystal size distribution of all the liquids remain unchanged during the crystallization process.
1. To adapt to continuous production standards, continuous production process control accuracy is higher, output is large, production is stable, and it is convenient to connect with other process steps, which is one of the trends of industrialization technology progress in the future.
2. The crystallization yield can be greatly improved, and the products lost in the mother liquor can be recovered through the multi-stage countercurrent method, while meeting the legal requirements, and greatly reducing the generation of hazardous solid waste materials.
3. The purity of the product can be effectively improved, and the separation degree of the main product and the impurities can be enlarged through the multi-stage countercurrent method, so the content of the main product can be further increased, and the quality of the final product can be improved.
4.Minimize the deviation between batches. Fully automatic control and online monitoring can be used to reduce the deviation caused by manual operation and the instability caused by the pre-step.
At the basement of MSG single-effect crystallization pot, the device adopt the process of double-effect, rising film, decompression evaporation, fresh steam provide heat to first-effect, compared with original process, this device reduce 50% percent steam consumption. Crystallization is the Self-developed Oslo elutriation crystallizer without stirring
The device adopt automatic program to control.
Third, the process flow chart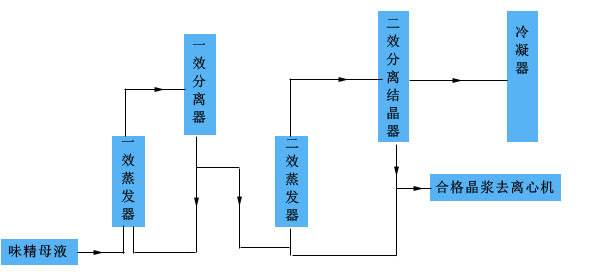 ---
---
Write your message here and send it to us